Directions
Note: If you haven't yet purchased Organize, you will see the following screen each time you launch Organize: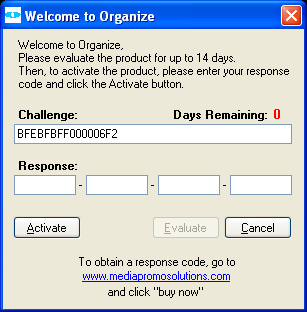 1. Copy the "challenge" code and paste it into the "challenge" field on the "buy now" page on this website.

2. Using a credit card, purchase Organize online from the "buy now" page on this site for $29.99 USD.  Fill in all the required information and click the "Buy Now" button on the last page.

Note:  After the payment has been transacted, a "response" code will be displayed.  This is what you have paid for – it's the "key" to unlock the program so it will work beyond the 14-day trial period.  You use this code to "unlock" the program.
3. Paste the "response" code from the website into Organize.  Enter the code in the "response" field for the following screen: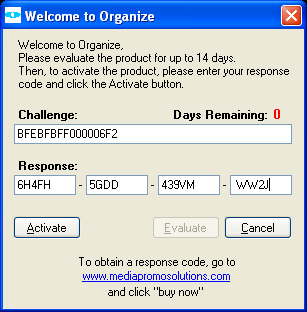 4. Click the "Activate" button.  Organize will now keep working for all time to come, and will not expire after the initial 14-day trial period.